○ NRA Pistol Marksmanship Simulator Training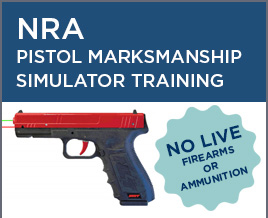 NRA Pistol Marksmanship Simulator Training
Course Name: NRA Pistol Marksmanship Simulator Training
Cost: $100
Course Length: 2 hours
Course Goal: To provide the basic KNOWLEDGE, SKILLS, and ATTITUDE necessary to learn pistol marksmanship using virtual training system.
This comprehensive NRA course covers all aspects of safe firearm handling, basic fundamentals of shooting, and the correct mindset and attitude for pistol shooting. There is no live ammunition used in this class. Students receive an NRA certificate upon completion.
This class meets the safety requirements for application to obtain a Virginia Concealed Carry Permit.
We also continue to offer One-on-One personal firearms instruction.
Who do I contact to receive the training?